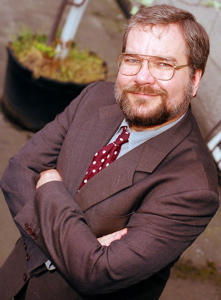 Audio/Video: Music, Lectures, and TV clips
Songs about PGP
Choose a recording to download. These are MP3 files.
PGP by Psykosonik, from their Unlearn album. Recorded in 1996, I think. Used with permission from Paul Sebastien. Psykosonik has disbanded, but Paul's new band is called Basic Pleasure Model.
Unlearn album art lyrics for PGP
PGP filk song by Leslie Fish, recorded in 1994. Used with permission.
For more songs by Leslie Fish, visit random-factors.com.
PGP filk song lyrics, text file.
Podcasts and Lectures
Phil Zimmermann on Tech Nation. 32 minutes. Conversation with Moira Gunn on the PGP story, the Zfone Project, and surveillance technology, broadcast on 1 March 2009, for the radio show Tech Nation, at KQED in San Francisco.
Podcast - Perspectives on Privacy. A discussion of how the legal environment has changed in the years since PGP was developed, recorded in 2007.
PGP War Stories. 42 MBytes. One of my better lectures, recorded in July 2001 in San Francisco.
Video
Phil Zimmermann: Communications Security | Talks at Google, Zurich, 55 minutes, 13 June 2016 (Youtube).


Here are some QuickTime video clips to download:

Phil Zimmermann on PGP (11MB), TechTV Screen Savers, 8 minutes recorded 7 October 2003. Used with permission.
Phil Zimmermann on PGP (52MB High resolution QuickTime), TechTV Screen Savers, 8 minutes recorded 7 October 2003. Used with permission.


These are QuickTime movies. PC users must have QuickTime for Windows to display them. You can obtain QuickTime at http://www.apple.com/quicktime/download/

Here is a talk from one of the DEF CON Hacker conferences:

DEF CON 11 - A Conversation with Phil Zimmermann, August 2003 (Youtube).


Phil Zimmermann on The Whole Story of PGP, in two formats:

A comprehensive but engaging telling of the legal travails of PGP, placed in the context of the crypto revolution of the 1990s. About 95 minutes, presented on 24 October 2004 at University of Illinois at Champaign-Urbana. This is my best storytelling narrative to date on this subject matter.

This audience just wanted to hear PGP stories, but usually I speak on a broader range of topics. For details, click here.






xkcd.com