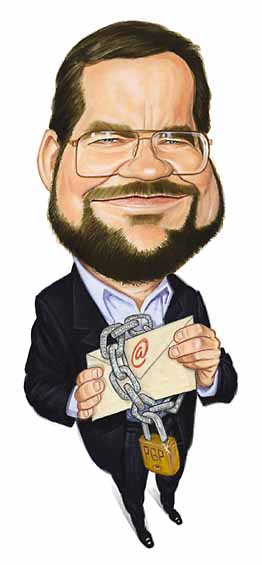 Speaker Services
I'm available for speaking engagements to talk about a wide range of topics relating to my work. Some of the more popular topics include technical, political, historical, social, and public policy aspects of cryptography, privacy, authentication, surveillance technology, biometrics, Post-Quantum algorithms, and Secure VoIP telephony. I also have a never ending supply of entertaining war stories from the history of the crypto revolution and the legal travails of PGP.
Speaker Fees
Sometimes I'm invited to speak at an event on another continent, where they offer to pay all the transportation costs, hotel, meals, and free admission to their event, which they imagine is compensation for me to give a talk for "only an hour". Sadly, that's not how it works. You have to pay a real speaker fee, in addition to all the travel expenses.
You can find speakers that speak for free, but they are usually paid spokespersons for their employers. I do not speak for a company, and make part of my living as a speaker. If all I had to do is step out of my office into the next room to give a talk, then step right back into my office, I probably would not charge money to speak. But of course it's never that simple; I usually have to fly somewhere and take time away from other paying work. That's part of the reason why I'm usually compensated to speak, the other reason being that I'm a good speaker.
Other Information
If you need some biographical information and photos for inclusion in your event materials, see my background and photos pages. Please spell Zimmerma with two 'N's in your event materials.
Most of my talks do not include slide presentations or notes.
You can review a sample lecture on the multimedia page.
I can be reached by email or phone by clicking here.